Documentary Film
Morikiki --- Mountains, Students and Sages (2010)


Wins the Best Film for Children and Young People, by Ministry of Health, Labor and Welfare, Government of Japan, 2011

Story
This film documents the time shared by four high school students and four elderly mountain sages. The students are typical Japanese teenagers who share a deep anxiety about the future. The sages represent a rural, mountain-based life that Japan has all but discarded in search of rapid economic development and material prosperity. The eight lives sketched herein provide us with a window on the fundamental contrasts to be found in Japan – urban vs. rural, modern vs. traditional, the young and the old – and show us what can happen when these radically different worlds meet.
Sponsored by a Japanese NPO, a new group of 100 high school students have visited 100 mountain sages every year since 2002. The students travel to meet with the sages and record and transcribe their descriptions of their lives and skills. This film follows four such encounters, in mountain villages throughout Japan.
Making use of only one rope and two short sticks, a 76-year-old man climbs large trees to collect seeds from the trees he determines to be of the highest quality. An 85-year-old woman has practiced slash and burn agriculture since she was in 3rd grade. Most Japanese high school students are not even aware that such lives exist. And yet, when the two have the opportunity to meet, the sages' words seem to find their way into the students' hearts.
A 16-year-old girl asks an elderly sage, "What do you like about slash and burn agriculture?" This casual question draws a passionate response from the woman to whom it is addressed. "It's not a matter of liking it," she responds. "This is my life work. I do it because I have the land and to preserve the seeds. I'm not doing this because I like it. I do it to live." She then adds, gently, "That's true of everyone and everything. Plants, animals, everything does this to live, to pass life on to the next generation. It continues this way naturally for tens and hundreds and thousands of years."
The words of these elderly sages have a deep impact on the high school students as they look nervously to the future, toward college entrance exams and job interviews. Witnessing the influence their words have on the students, the sages nod in satisfaction, perhaps reminded that their long and hard lives have been meaningful. A woodsman speaks to a young man who also dreams of working in the forest. "Here I am 84 and healthy because I have goals in life. You should have goals and live well too. And if you get stuck, come back and see me again."
Director's Statement
Filming these high school students and spending long hours together, I came to realize that many children in Japan today experience a deep anxiety when they look to the future. This is radically different from the generally optimistic view of the future held by my generation, by those of us who grew up during the time of rapid economic growth that came in the latter half of the 20th century. Many high school students today are walking in a dense fog that, for a few, is dispelled when they are exposed to the sages' lives and words. During the course of filming, I came to understand that a similar, shapeless anxiety lives in me as well. And, on the other hand, a youthful spirit that had long slept within me was awakened.
Shohei SHIBATA
Director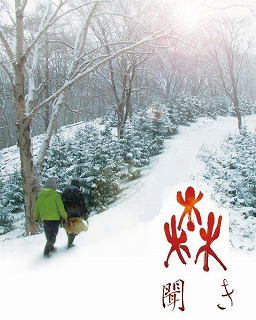 To the top of this page
Film data
Original Title: Morikiki
Release Date: Spring, 2011
Screen Time: 125 min.
Genre: Documentary, Feature

Color: Color
Screening Format: Blue Ray / HDV / DVCAM / DVD
Screen Size: 16:9
Sound Processing: Stereo

Staff and Cast
[ Directed by ]
Shohei SHIBATA
[ Produced by ]
Yoshimi OGANEKU, Shukichi KOIZUMI
[ Cast ]
4 mountain sages & 4 high school students
[ Staff ]
* Music: Rajaton
* Camera: Koichi NAGURA
* Animation: Saki IKEDA
* Sound: Toshiyuki SUZUKI
* Sound Mixer: Toru KADOKURA
* Editing: Shohei SHIBATA
* English Translation and Subtitles : Jeffrey Irish

Production and Distribution Company
ASIA Documentary Productions
2-7-13, Hoya-Cho, Nishi-Tokyo-Shi,
Tokyo, JAPAN
Tel: +81-42-4976975
Fax: +81-42-4976976
e-mail: info@asia-documentary.com

Contact Person: Yoshimi OGANEKU