Story
For centuries, the Japanese have learned to draw from the treasures of nature. With limited space to grow food for all, Japanese cuisine distilled, instead, the very best from its oceans, the forests and mountains that cover most of the archipelago's landmass. To truly be nourished, they believe, you must open all your senses, become aware of the world around you and its transformative properties. And in paying thoughtful attention to the delicate and the rare, they discovered astonishing worlds beneath the visible. To penetrate the secrets of this invisible world we must take a microscopic journey to the genesis of the pure and restrained art of Japan's cuisine whose twin pillars are: a delicate stock named 'Dashi'; and the golden sauce they call 'Shoyu'. Without them, the delicate balance of textures and harmonisation of flavours which make up the genius of Japanese cuisine, would not be achieved…

Part 1: Dashi (Soup Stock)

'Dashi' is the bedrock of Japanese cuisine. Deceptively simple, master chefs down the centuries jealously guarded its secrets and blended their aromas at night. In the philosophy of Japanese cuisine, Dashi is not fabricated or concocted but "drawn out" from the very stuff of nature. And the essential ingredients from which it is drawn are gathered from the waters that surround Japan's islands.
In the northern seas, Konbu, a species of seaweed, grows by absorbing the sea's nutrients through the entire surface of the plant. While in the southern seas, great shoals of Bonito arrive once a year on their annual migration north. But Dashi is also nurtured in the forest, where forest dwellers have for centuries developed the delicate craft of cultivating choice shiitake mushrooms from the humid trees.
The development of dashi came about as a result of a historical event that triggered a "food revolution". Buddhism arrived in Japan about one thousand five hundred years ago. Its philosophy forbids the destruction of life. After embracing Buddhism, the Imperial Court issued edicts prohibiting the production and consumption of meat, which spread from nobles and samurai eventually to the population at large. This was strictly enforced. Famished, the Japanese quickly sought other sources of 'umami' taste. And they found it in Dashi made with Konbu kelp, shiitake mushrooms and dried bonito.
Dashi is a distillation of the natural resources of Japan, the essence of its very nature.

Part 2: Shoyu (Soy Sauce)
The Japanese discovered that a humble mould spore could transform soya beans into 'Shoyu', the soy sauce that is a pillar of Japanese cuisine. Sprinkle it on rice and the rice changes into sake and a sweet sake extract called Mirin. This mould is a tiny organism called 'Aspergillus oryzae' and mysteriously, it exists only in Japan.
To tell this story, we travelled to the imperial city of Kyoto where the ancient craft of brewing Shoyu is preserved. It's a delicate process that must begin in spring and requires one whole year to mature the soy sauce. The Shoyu brewer knows well how climatic conditions can impact the result of his work. It is all a question of balance and harmony…
100min / Japan & France / HD
Co-productions between ARTE / NHK / PDJ / ASIA



- 2015: won honorable mentions in the "Archaelogy Channel International Film and Video Festival" in the categories of Best Film competition, Audience Favorite competition, Scripts, Music, Animation and Effects, Cinematography, Narration.

- 2015: Won the prestigious "Shizuo Tsuji Award of Gastronomy" in Japan

- 2015: Galaxy Awards for outstanding programs selected by the members of Japan Council for better Radio and Television in Japan

- 2014: 2nd Prize of the Japanese Documentary award at the 88th Kinema-Junpo (Famed Japanese film magazine) Movie Awards.

- 2014: "Outstanding Documentary of the Year" at the ATP Prize (Association of All Japan TV Program Production) and "Ministry of Communications Prize", Japan.

This film was broadcast by ARTE in August 2014. It had one of the highest requests for on demand screening in France this year and has so far been rebroadcast six times in France and Germany.



"The West is only beginning to rediscover this ancient wisdom."
"Ces sagesses millénaires, l'Occident en est seulement à COMMENCER à les redécouvrir!"
French audience comment on ARTE


"The best documentary I've seen in years. Many thanks!!!"
"Die Beste Doku, die ich seit Jahren gesehen habe. Vielen Dank!!!"
German audience comment on ARTE


"This film has a magical spell because of the visual connections it creates between cuisine and people, ingredients and nature... because of the way Mr. Shibata has interwoven time and scale using time lapse photography to create connections between the growth of one shitake mushroom and the large perennial forest, or in the drying of hundreds of bonito fish and the gorgeous panoramas of Hokkaïdo."
Luc Martin-Gousset, French executive producer
In CINEMAS
Ghent, Belgium
26
Mar.(Sun.)
2017
Studio Skoop

Belgium premiere!

From 14:30
English dubbed version with Japanese subtitles will be screened at


Film festival 2017 Japan Square.




Venue: Studio Skoop
Sint-Annaplein 63, 9000 Gent

Information: Japan Square vzw
info@japan-square.be




San Francisco, U.S.A.
30
Jul.(Sat.)
2016
NEW PEOPLE Cinema


From 12:00


English dubbed version will be screened.


Special Dashi Stock Tasting at the Screening!

Japan Film Festival of San Francisco

Venue: 1746 Post Street, San Francisco, CA 94115 | MAP

Prague,
Czech Republic
5
Feb.(Fri.)
2016
Kino Lucerna




From 18:00

It will be screened with English narration, Czech and Japanese subtitles.

EIGA-SAI 2016 Official Website

Venue: Kino Lucerna, Vodičkova 36, Praha 1, 110 00 Google map

Tel. 736 431 503 / 224 216 972.

Kyoto
14 Sep.(Mon.)

21 Sep.(Mon.)

2015

Kyoto Cinema


Venue: Kyoto Cinema. COCON Karasuma 3F, Karasuma-Street (the south-west side of Shijo), Shimogyo-ku, Kyoto-shi, Kyoto Google map

Tel:075-353-4723
Tickets: ¥1,500 /Adults

Special screening with English narration and Japanese subtitles will be on 14 at 15:00 and 21 Sep. at 10:20.

Regular screenings in Japanese, please check this site.

Shibuya, Tokyo
10 Mar.(Tue.)

17 Mar.(Tue.)

24 Mar.(Tue.)

31 Mar.(Tue)

2015

UPLINK Factory



Venue:Totsune Bldg 1F, 3
7-18 Udagawacho,
Shibuya, Tokyo

Tel: (03)6825-5502

Special screening with English narration and Japanese subtitles will be on every Tuesdaythis month. Next is12:50 on 31 Mar. (Tue.).

Regular screenings in Japanese, please check this site.

Yokohama
7 Mar. 2015

Cinema Jack and Betty



Venue: 51-3, Wakaba-cho 3-chome, Naka-ku, Yokohama, Kanagawa

Tel: (045)243-9800

Special screening with English narration and Japanese subtitles will be on 7 Mar. at 14:55.

Regular screenings in Japanese, please check this site.



The people who live the wisdom of their ancestors.







Yuri Fujimoto

Fisher woman in Shiretoko, Hokkaido, 90 years old. This area have been registered as a UNESCO Natural World Heritage site. There is a hut on the beach located near where there's an abundance of naturally occurring konbu kelp. There's no electricity or tap water. Yuri Fujimoto lives here alone, with her dog and daily visits by wild bears, gathering wild konbu.





Toshikatsu Miura and his family.

Fisherman in Shiretoko, Hokkaido. The Miura family also live in a small hut gathering wild konbu. Everyone, even the elementary school children, lend a helping hand in the harvest.

Shusaku Imakiire

Master maker of dried bonito (katsuobushi ), Makurazaki, Kagoshima Pref.

Minshu Tsubokawa

Master Chef in Zen Temple, Soji-ji, Kanagawa Pref.

Kuniko Shiiba

Kuniko Shiiba is the sole remaining farmer in Japan who carries out slash-and-burn farming to grow shiitake mushrooms.

Hisateru Sawai

Brewer of Shoyu (Soy Sauce) who carries out traditional brewing in Kyoto.

Takatoshi Ohno

Master brewer of Sake, who uses ancient brewing methods in Chiba Pref.

Akihiko Sukeno

Traditional mold seed producer, Kyoto

Taro Fukuchi

6th month old boy.

Hiroyuki Kato

Famous Master Chef in Gion, Kyoto. Dignitaries and celebrities know this chef. Steve Jobs often visited his restaurant when in Japan.
Scientific Supervisor
Toru Fushiki

Professor of the Division of Food Science and Biochemistry at the Graduate School of Agriculture, Kyoto University

Katsuhiko Kitamoto

Professor of microbiology, Department of Biotechnology, The University of Tokyo.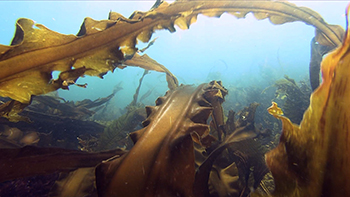 Witness the mysterious making of Kombu, dried bonito and shiitake mushroom.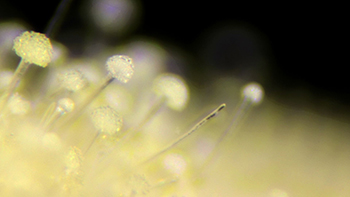 Mold blossoms used to make Sake and Soy sauce.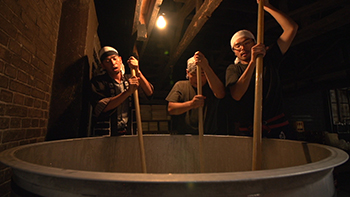 The craftsmen sing to the tiny organisms so that the fungi will be happy in their work and make Sake cheerfully.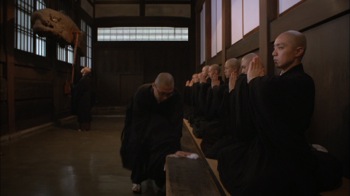 Japanese cuisine was developed
on the foundations of Zen philosophy.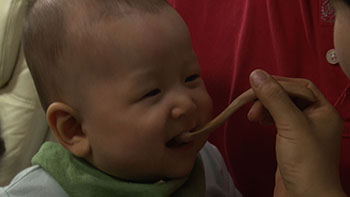 The traditional first meal with Dashi served on the one hundredth day of life.
Staff
Director:Shohei Shibata 

Camera:Yasuo Kasugai 

Music:Dan Parry  

Assistant Director:Itaru Matsui

Executive Producers:

   Yoshimi Oganeku (ASIA Documentary Productios)

   Nozomu Makino (NHK)

   Jun Ito (NHK)

   Catherine Alvaresse (ARTE France)

   Luc Martin-Gouset (Point du Jour)

   

【Director Shohei Shibata】
Shohei Shibata, graduated from University of Tokyo and joined NHK in 1988. After an initial three-year assignment as a TV director at the NHK Okinawa Station, he was transferred to the News Department at the NHK Broadcasting Center in Tokyo.
From 1992 to 1995, Shibata worked for the Center for Ethnological Visual Documentation. He then became an independent TV director.
In 1997, Shibata established ASIA Documentary Productions Company in Tokyo, serving as its president and as a film & TV producer and director.